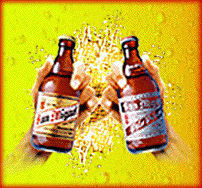 Just in case you're wondering, yes, I am in the office today (the curse of the month-end reports).

May you have many, many more to come, bro. I wish you all the happiness in your career, in your marriage, and in your other endeavors today, on your special day, and in the days that follow. We'll be drinking for you tonight.

Here's to your good looks...and sexy body! (Bry should have this line patented already).

Happy, Happy Birthday!

Anybody want to hit G's Spot and make him a very happy boy can go here. (Oh look, I made a pun).